Virades de l'Espoir
Online registration




Secured payment with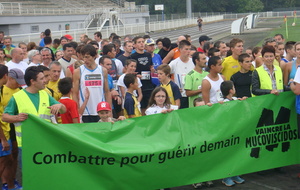 Event organised by AC Pamiers - Asso Vaincre la Mucoviscidose,
on September 28, 2014

Online registration active until September 26, 2014 at midnight
Venez nombreux participer à la journée pour l'espoir au stade Balussou à Pamiers le Dimanche 28 Septembre 2014.

8h30 : ouverture des inscriptions
9h30 : départ Rando 5km / 9km700 (inscription 7 Euros mini)
10h00 : départ Course à Pied 5km / 9km700 (inscription 7 Euros mini)
OBLIGATOIRE Course : certificat médical de non contre-indication à la pratique de la course à pied en compétition datant de moins d'un an ou une licence athlé
11h30 : départ course enfant (course gratuite non chronométrée)

Renseignements course : Gérard MASCLET - 06 74 27 89 18 / 05 61 60 07 58

Coût de l'inscription 7 Euros et DONS SUPPLEMENTAIRES INTÉGRALEMENT REVERSES à " VAINCRE la MUCOVISCIDOSE"


Registration form
Please type here your personnal information, and choose the registration options corresponding to your case. Once all the form fields are filled, click the button Validate your registration, which will activate the secured online paiement. You can validate many individual registrations at once.
The registrations online are now closed for this event.