YakTrax Snowrace Tour
Online registration




Secured payment by credit card with our partner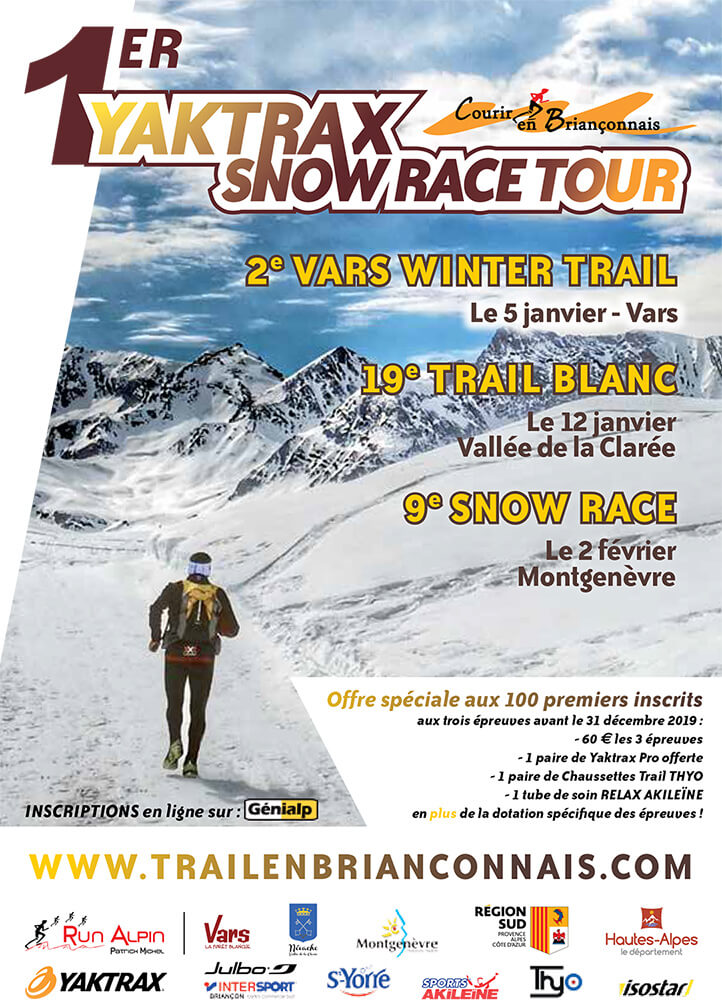 Event organised by Courir en Brianconnais,
on January 5, 2020

Online registration active until January 2, 2020 at midnight
Le 1er challenge de Trail sur Neige des Hautes Alpes, 3 courses entre début janvier et début février avec Yaktrax
LES ÉPREUVES DU 1ER YAKTRAX SNOW RACE TOUR
Dimanche 05 Janvier : le 2ème Vars Winter trail

Dimanche 12 Janvier : le 19 ème Trail Blanc de la Clarée

Dimanche 02 Février : le 9ème Snow Race de Montgenèvre
OFFRE SPECIALE 
aux trois épreuves avant le 02 Janvier 2020 : 
- 60 € les 3 épreuves
- 1 paire de Yaktrax Pro offerte
- 1 paire de Chaussette Trail THYO
- 1 tube de soin RELAX AKILEÏNE
en plus de la dotation spécifique des épreuves : cadeau de bienvenue, textile, repas, journal avec résultats, ravitaillements.
Registration form
Please type here your personnal information, and choose the registration options corresponding to your case. Once all the form fields are filled, click the button Validate your registration, which will activate the secured online paiement. You can validate many individual registrations at once.
The registrations online are now closed for this event.