Veta Trail de la Corniche INDIVIDUEL
Online registration




Secured payment by credit card with our partner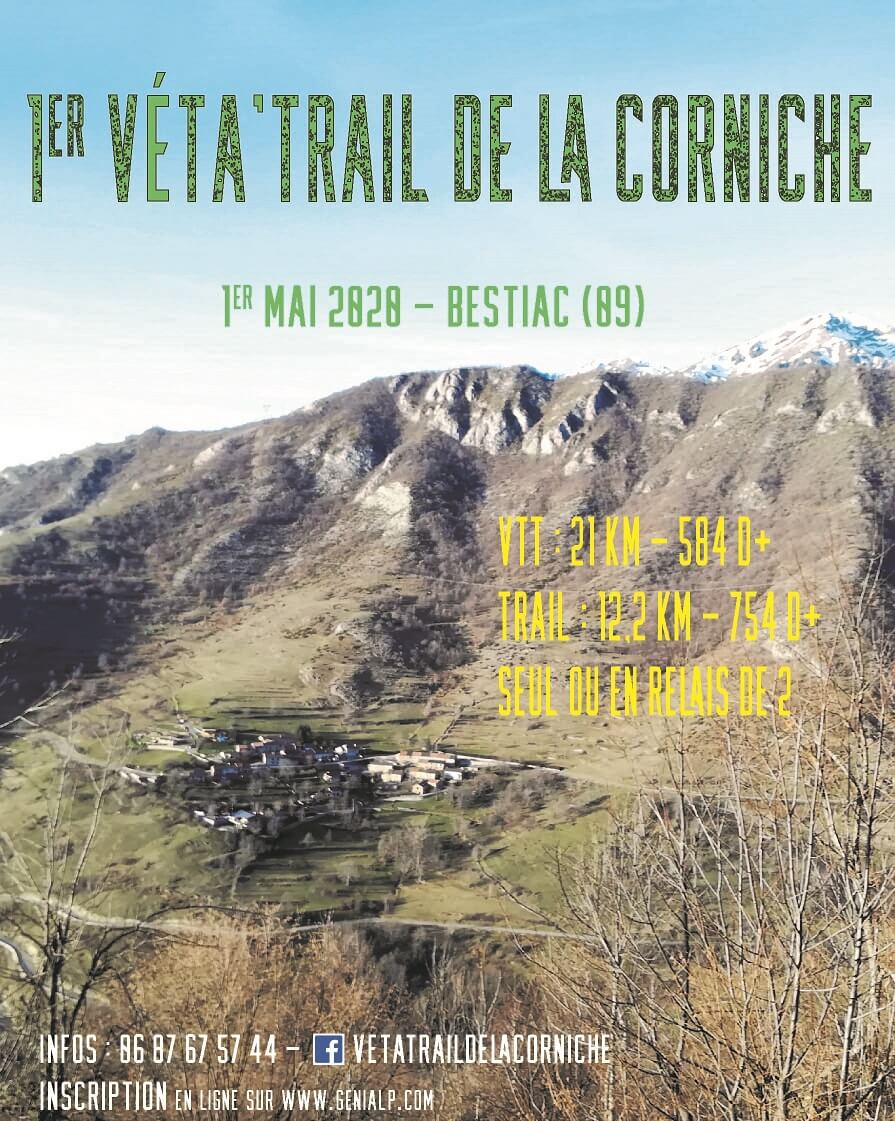 Event organised by Les Potes de la Corniche,
on May 1, 2020

Online registration active until April 29, 2020 at midnight
1ère édition du Véta'trail de la Corniche !


Retenez la date du 1er mai 2020, on vous attend nombreux à Bestiac (09) pour une épreuve combinant le VTT et la course à pied sur de très beaux sentiers montagnards ! Accueil à partir de 13h et départ à 15h.
Vous aurez la possibilité de faire l'épreuve seul(e) ou en relais de 2 (VTT : 21 km, D+ 584 m et Trail : 12,2 km, D+ 754 m).
L'inscription comprend le repas d'après-course que vous pourrez partager dans une ambiance conviviale et musicale.
Majoration des prix à partir du 19/04/2020 (individuel : 20€, équipe de 2 : 40€).
Pour en savoir plus, venez visiter notre page Facebook.
L'organisateur de cet événement demande le téléchargement d'une copie de certificat médical de non-contre-indication à la pratique du cyclisme en compétition ou de la course à pied en compétition datant de moins d'un an ou de licence pour chaque inscription. Merci de bien vouloir fournir ces documents afin de permettre la validation.
Registration form
Please type here your personnal information, and choose the registration options corresponding to your case. Once all the form fields are filled, click the button Validate your registration, which will activate the secured online paiement. You can validate many individual registrations at once.
The organizer of this event asks for a mandatory copy of a medical certificate or valid licence for each individual. Please provide these documents in order to proceed to the validation.
Evénement annulé !
.L'épreuve est annulé pour raisons sanitaires. Les remboursement seront fait dans les meilleurs délais. Merci pour votre compréhension

The registrations online are now closed for this event.