Trail et Marche l'Escuroise
Online registration




Secured payment by credit card with our partner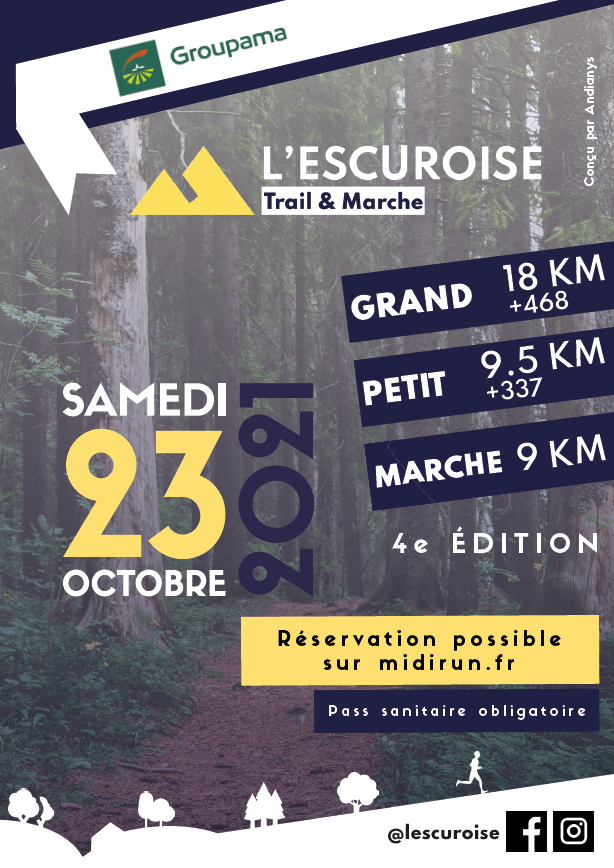 Event organised by ,
on October 23, 2021

Online registration active until October 22, 2021 at midnight
Programme :
-       14h : départ marche (9 km) circuit patrimoine avec décou-verte des clochers de Lescure (Clocher de Noguès classé au patrimoine de France).
-
15h : départ trail "Grand 18 km"
-
15h30 : départ trail "Petit 9.5 km"
-
17h30 à 18h : remise des récompenses
-
18h30 : départ course chiens de traineaux
-
19h : apéritif et repas
Registration form
Please type here your personnal information, and choose the registration options corresponding to your case. Once all the form fields are filled, click the button Validate your registration, which will activate the secured online paiement. You can validate many individual registrations at once.
The organizer of this event asks for a mandatory copy of a medical certificate or valid licence for each individual. Please provide these documents in order to proceed to the validation.
The registrations online are now closed for this event.