Trail du Luberon 2018
Online registration




Secured payment by credit card with our partner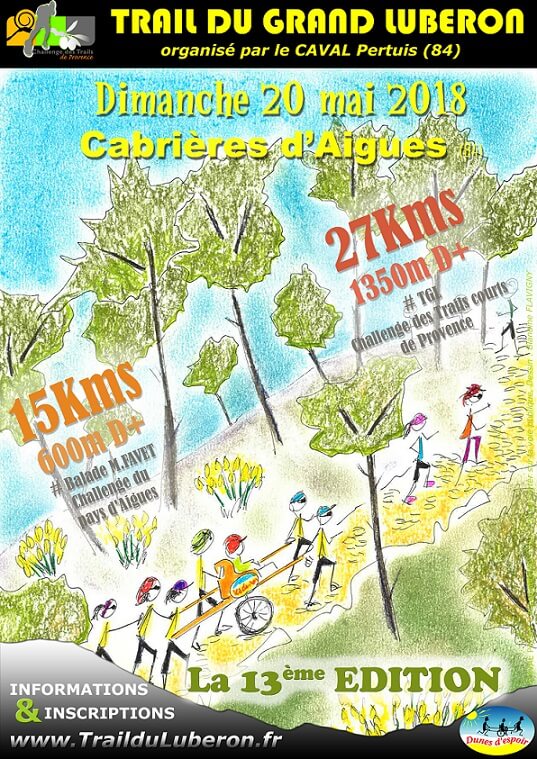 Event organised by Caval Pertuis,
on May 20, 2018

Online registration active until May 19, 2018 at 12:00:00
Le "Trail du Grand Luberon" (27km 1300m D+) reste une étape du Challenge des trails de Provence court et "la balade de Mr Favet (15kms 600 D+) sera le troisième rdv du Challenge de la Vallée d'Aigues. Le nombre des participants sera toujours limité au total à 450 coureurs.


LA BALADE DE M.FAVET
Départ sélectif dans les 3 premiers kilomètres... en gros cela monte ! Le peloton sera bien étiré, vous pourrez ainsi profiter des singles dans les vallons encaissés et rocheux qui suivent. Le "passage du canyon" tant apprécié par les participants vous attendra sagement. Une fois dévalé, vous êtes au 8ième kilomètres, il est grand temps de prendre de la hauteur et de remonter vers le ravito du 9ième kilomètre. Aie les mollets vont tirer dans les premiers mètres. Reste 6 kilomètres très courants sur pistes et larges chemins de quoi dérouler si vous n'avez pas trop tirer sur les pentes précédentes. Vous repasserez sur des terres conquises plus tôt puis par un amour de single et un petit coup de cul qui vous permettra de nous maudire, vous voilà très rapidement sur la place de Cabrières pour profiter des réjouissances préparées par les bénévoles.
LE TRAIL DU GRAND LUBERON - Etape du Challenge des Trails de Provence
L'itinéraire est commun avec "La Balade" jusqu'au 8ième kilomètre, donc gestion à prévoir. Petits veinards la descente au fond du ravin continue pour vous? parfois les pieds dans l'eau ! Pour retrouver le ravito du 12ième(le même que celui de "La Balade") une nouvelle partie de plaisir sur singles vous attendra après un petit "coup de cul". Prenez bien des forces pour attaquer le single qui vous emmènera tout là haut sur les crêtes car ensuite c'est la partie de montagne russe, spécialité du TGL. Après cette séance grand angle sur les vallées et massifs environnants de la mer aux Alpes (si si ! ), C'est la descente express vers le second ravito : 1,7kms et 500 de D- un régal si les jambes sont encore là ! Tout en bas c'est le 21ième kilomètre. Il vous reste 6kms dont la célèbre montée dite "La LOPEZ" et le même final que sur "La Balade".
Registration form
Please type here your personnal information, and choose the registration options corresponding to your case. Once all the form fields are filled, click the button Validate your registration, which will activate the secured online paiement. You can validate many individual registrations at once.
The registrations online are now closed for this event.