Trail des fleurs de Lys 2017
Online registration




Secured payment with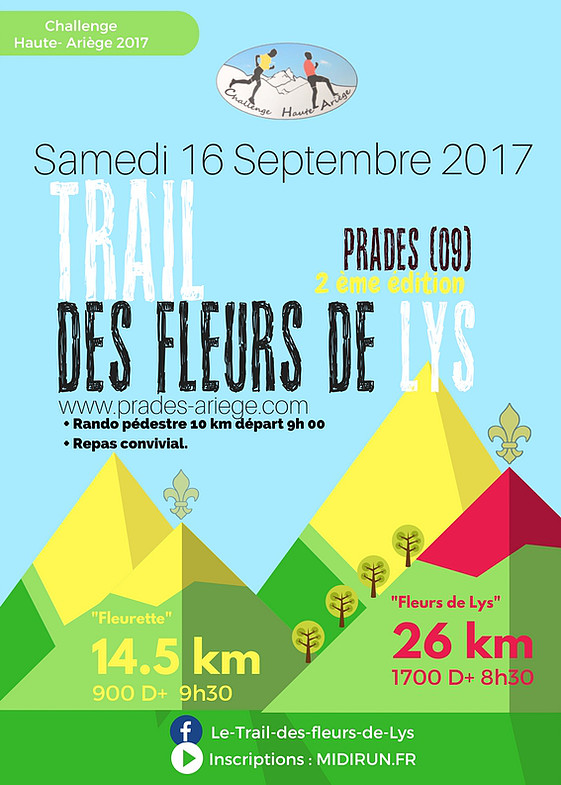 Event organised by Comité des Fêtes de PRADES,
on September 16, 2017

Online registration active until September 14, 2017 at midnight
Le Comité des Fêtes de Prades a organise le samedi 1 6 septembre 2017 deux courses
hors stade "Fleurette" :  14.5 km pour 900 D+ et "Fleurs de Lys" :  26 km pour 1700 D+ :
- départ village 1 250m
- retour village 1 250m
- en passant par deux pics à 1 900 m ( Pic Fourcat et Roc de Scaramus).
Ce trail est unique et a double vocation : sportive et patrimoniale.

Les parcours se veulent donc très varié, entre piste et chemin de montagne, entre zone forestière et zone ouverte de montagne (estive).
Registration form
Please type here your personnal information, and choose the registration options corresponding to your case. Once all the form fields are filled, click the button Validate your registration, which will activate the secured online paiement. You can validate many individual registrations at once.
The organizer of this event asks for a mandatory copy of a medical certificate or valid licence for each individual. Please provide these documents in order to proceed to the validation.
The registrations online are now closed for this event.