Trail LE SOURIRE D'AURORE COURSE OPEN
Online registration




Secured payment by credit card with our partner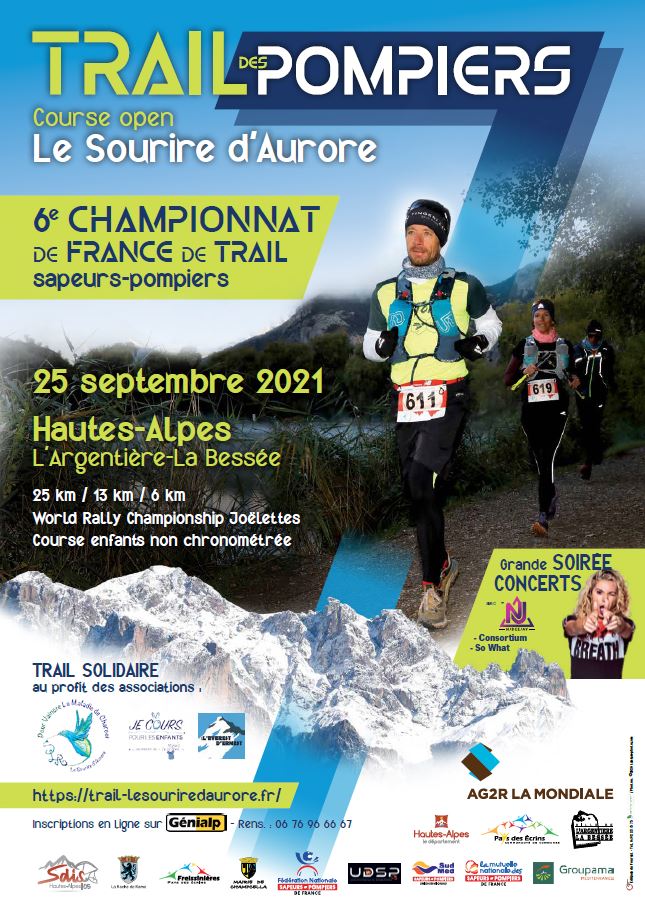 Event organised by Amicales des Pompiers de l'Argentiere la bessée,
on September 25, 2021

Online registration active until September 23, 2021 at midnight
Le but de notre démarche est d'organiser une journée d'action pour soutenir Aurore atteinte de la maladie de Charcot,
mais aussi d'autres malades,
de récolter des fonds pour la recherche médicale mais aussi pour l'association " Magie hôpital " qui oeuvre pour les enfants hospitalisés.
Nous venons aussi en aide à un enfant atteint du syndrome du chromosome 15 isodicentrique (L'IDIC 15) qui est une maladie génétique rare qui touche une personne sur 30 000. Elle entraine un retard de développement, un déficit intellectuel, des crises d'épilepsie, des troubles du spectre autistique et un comportement social inhabituel.
Des symptômes multiples et complexes qui mènent la vie dure à ceux qui en sont touchés.
Et enfin, tout naturellement en tant que sapeurs-pompiers, nous soutenons l'œuvre des Pupilles
-Faire une grande journée de solidarité en proposant un " TRAIL " 
sur le thème de la course à pied ou de la marche nordique dans un esprit festif et "  à chacun sa distance ".
certificat médical
de non contre indication à la pratique de la
course à pied en compétition ou une licence FFA 
(pas d'autres licence acceptée!!), sur
 toutes les courses proposées !! Pour être valide le certificat doit dater de moins d'un an.
Munissez-vous d'un masque pour le départ et l'arrivée de la course et pensez à vous équiper d'un gobelet personnel et de gourdes.
       Pour voir le
règlement du trail, rendez-vous sur notre page Facebook:
https://www.facebook.com/Traildespompiers/

Registration form
Please type here your personnal information, and choose the registration options corresponding to your case. Once all the form fields are filled, click the button Validate your registration, which will activate the secured online paiement. You can validate many individual registrations at once.
The registrations online are now closed for this event.