Trail LE SOURIRE D'AURORE 2019
Online registration




Secured payment by credit card with our partner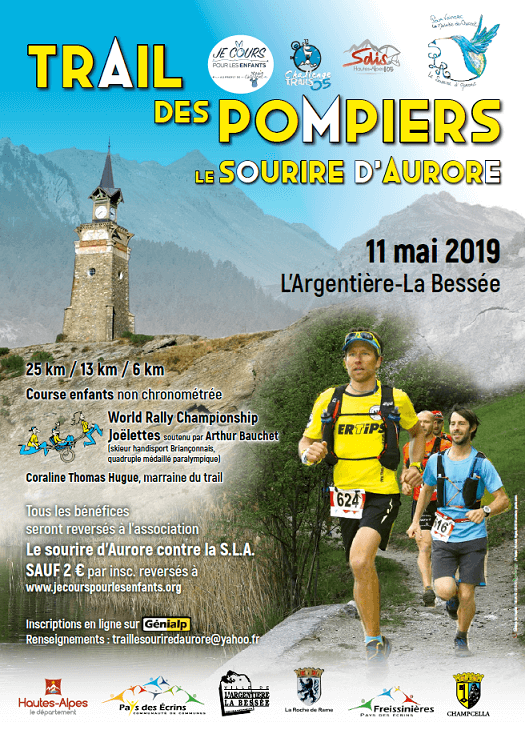 Event organised by Amicales des Pompiers de l'Argentiere la bessée,
on May 11, 2019

Online registration active until May 9, 2019 at midnight
Trail
       Les Sapeurs pompiers de l'Argentière la Bessée et l'association "Le Sourire d'Aurore contre la SLA (maladie de Charcot)" organisent cette année encore cette belle journée pour récolter des fonds qui seront intégralement reversés à l'association (sauf 2? par inscription qui seront versés à l'association "je cours pour les enfants").
Course de raft:
       Cette année, nous nous associons au CRFCK pour prolonger le week-end avec une course de raft le dimanche. Que vous soyez licencié FFCK ou non, que vous soyez confirmé ou non, venez goûter les joie de l'eau vive!!
 (
L'option raft s'affiche une fois le parcours choisi!!!
)
      certificat médical de non contre indication à la pratique de la course à pied et à la pratique des sports d'eaux vives
       Pour voir le
règlement du trail et du raft rendez-vous sur notre page Facebook:
      Si vous voulez
seulement participer à la course de raft rendez-vous sur la page d'inscription genialp:
Pour les équipes jöelette inscrites au trail et voulant participer au raft ou pour tout autre question, m'appeler au 0787385647.
Pour voir la liste des inscrits:
Registration form
Please type here your personnal information, and choose the registration options corresponding to your case. Once all the form fields are filled, click the button Validate your registration, which will activate the secured online paiement. You can validate many individual registrations at once.
The registrations online are now closed for this event.