Sky Race Montgenevre 2018
Online registration




Secured payment by credit card with our partner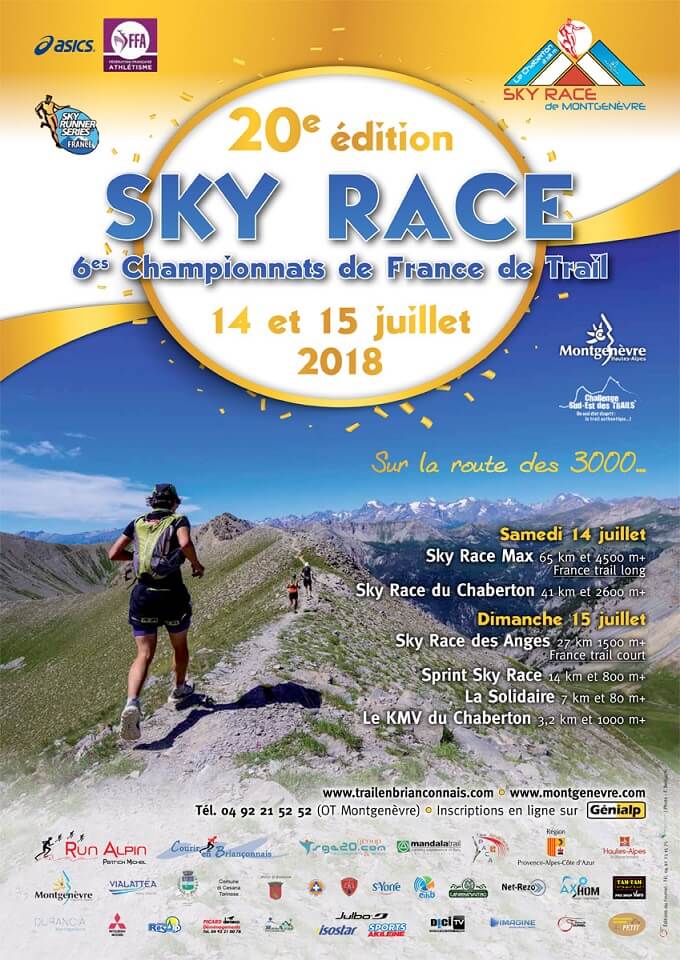 Event organised by Courir en Brianconnais,
on July 14, 2018

Online registration active until July 12, 2018 at midnight
New edition of the race in Montgenèvre in the magnificent scenery of Chaberton pike. 4 routes of which 3 new ones.
Nuove edizione della Sky Race running a Monginevro con il Chaberton. 4 gare da qualle 3 nuove
- 
Sky Race Max 63km & 4500m de D+
 : le Chaberton 3200m, Capanna mautino, colle d'Izoard. A really great route. Un percorso manifico, anche percorso del campionato di Francia di Trail
- 
Sky Race Chaberton 41km & 2650m D+
. Belong to "challenge sud est des trails" and "Sky Runner series France". Chaberton challenge. 
-  
Sky Race des Anges 27km & 1500m D+
. anche percorso del campionato di francia trail corto. 
- La Sprint Sky Race du Chalvet : 14km et 800m D+ 
- Le KV du Chaberton : 3.5km - 1000m D+ -
- La Sky Race solidaire : 7km - 80m D+ al benefito di un'associazione ri ricerca per la genetica / in befenits of a charitable organization

www.trailenbrianconnais.com
Registration form
Please type here your personnal information, and choose the registration options corresponding to your case. Once all the form fields are filled, click the button Validate your registration, which will activate the secured online paiement. You can validate many individual registrations at once.
The registrations online are now closed for this event.