Raid VTT des Monts d'Ardèche 2017
Online registration




Secured payment with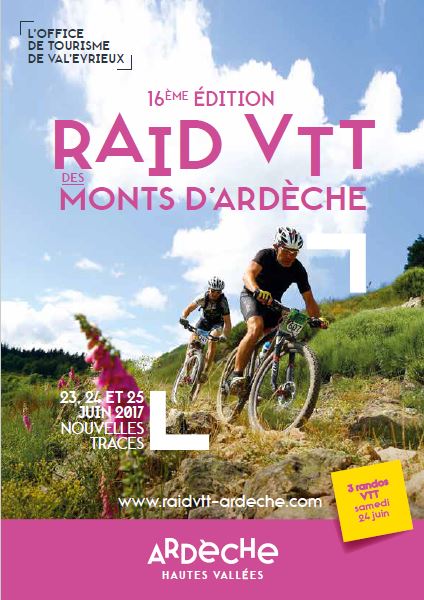 Event organised by L'Office de Tourisme Val'Eyrieux,
on June 23, 2017

Online registration active until June 21, 2017 at midnight
Le Raid VTT des Monts d'Ardèche revient pour sa 16ème édition les 23, 24 et 25 juin 2017. 4 étapes sur 3 jours de compétition vous sont proposées au coeur des plus beaux paysages ardéchois. La technicité des parcours savent satisfaire les raideurs qui considèrent cette épreuve comme "pure, dure et nature". 
Vous avez le choix de participer sur 1, 2 ou 3 jours, en solo ou en équipe de trois. 
De nouveaux parcours sont à noter sur la journée du samedi. 
Venez défier les Monts d'Ardèche
 !
Egalement proposé la journée du samedi 24 juin: 3 parcours de randonnées VTT (9, 20 et 30 km). Pour vous inscrire, c'est par
ICI
.
Les tarifs des formules comprenant le repas du dimanche midi ont été modifiés de 1euro. Ce tarif de 1euro correspond à un gobelet réutilisable "Raid VTT des Monts d'Ardèche" qui vous sera fourni au repas du dimanche. Une consigne sera mise en place le jour même si vous souhaitez redonner ce gobelet.
Registration form
Please type here your personnal information, and choose the registration options corresponding to your case. Once all the form fields are filled, click the button Validate your registration, which will activate the secured online paiement. You can validate many individual registrations at once.
The registrations online are now closed for this event.