La Volcane 2020
Online registration




Secured payment by credit card with our partner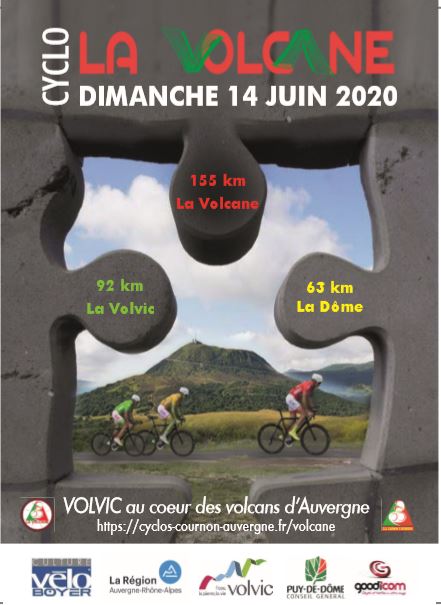 Event organised by Les Cyclos Cournon d'Auvergne,
on June 14, 2020

Online registration active until June 13, 2020 at 12:00:00
DIMANCHE 14 JUIN 2020 - VOLVIC

La première édition de "LA VOLCANE" nous a pleinement satisfaits, merci aux  nombreux participants, aux bénévoles et à nos sponsors qui ont permis la réussite de cette belle épreuve.

Forte de cette expérience, l'équipe d'organisation s'est remise au travail pour améliorer cette cyclo en tenant compte des remarques pertinentes.

Les nouveaux parcours emprunteront un massif préservé et moins "urbain" où tout sera mis en oeuvre pour respecter l'environnement.

Au programme :

 - 2 parcours cyclosportifs de 155 km (La Volcane) et de 92 km (La Volvic)  avec chronométrage et classement (le choix du parcours se fera automatiquement lors du passage ou non du concurrent au poste de pointage intermédiaire sur le parcours La Volcane)

 - 2 parcours randonnées de 63 km (La Dôme) et 92 km (La Volvic) sans chronométrage, sans classement

 - 1 randonnée pédestre pour les accompagnateurs.

Les parrains pour nous accompagner cette année sont :
Sylvain Georges et Sébastien Fournet-Fayard, ex-cyclistes professionnels auvergnats.

Nous accueillerons tous les types de cyclisme et les vélos électriques (VAE) seront aussi les bienvenus sur les parcours non chronométrés.

                                                                                L'équipe d'organisation.

Registration form
Please type here your personnal information, and choose the registration options corresponding to your case. Once all the form fields are filled, click the button Validate your registration, which will activate the secured online paiement. You can validate many individual registrations at once.
Evénement annulé !
Chers amis, chers coureurs,
Les conséquences actuelles et à venir de la crise sanitaire qui secoue le pays nous obligent à reporter en 2021 la Cyclo "La Volcane".
L'indisponibilité de nombreux partenaires et bénévoles pèse lourdement sur le calendrier de notre préparation. Nos exigences en matière de sécurité, notre volonté de vous offrir des animations de qualité ne peuvent plus être satisfaites sauf à dégrader considérablement notre prestation.
En accord avec les autorités, nos partenaires et sponsors et la Fédération Française de Cyclisme nous décalons notre épreuve qui sera inscrite au calendrier cyclosportif 2021.
The registrations online are now closed for this event.