La Raymond Martin 2021
Online registration




Secured payment by credit card with our partner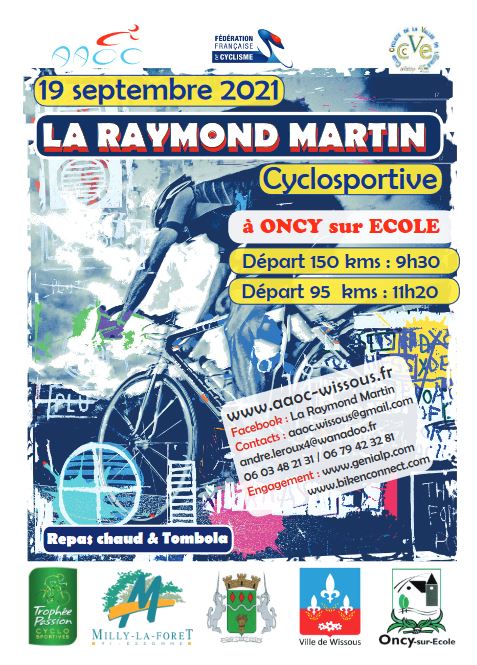 Event organised by Airport Association Olympique Cycliste de Wissous,
on September 19, 2021

Online registration active until September 17, 2021 at midnight
CYCLOSPORTIVE
" en Île de France traversant les départements de l'Essonne, de la Seine et Marne et du Loiret"
DIMANCHE 19 SEPTEMBRE 2021
 1er DÉPART à 9 h 30 
Le CCVE et l' AAOC de Wissous vous informe que l'épreuve est maintenue. Mais que suite aux dispositions du Décret N° 2021-1059 du 7 août 2021 modifiant le décret N° 2021-699 du 1er juin 2021 prescrivant les mesures générales nécessaires à la gestion de la sortie de crise sanitaire :
- Les concurrents devront présenter le pass sanitaire qui est constitué de l'attestation de vaccination de + de 7 jours ou un test PCR de moins de 72 heures pour accéder au gymnase du "village départ".
- Remise des plaques de guidon
  Samedi 18 Septembre de 15h à 19 h et Dimanche 19 Septembre de 6 h 30 à 9 h00 pour le 150 Km et de 8 h30 à 10 h45 pour le 95 km au gymnase d'Oncy-sur-Ecole
 (91).
DEPART 9 h 30 (Chemin de la Ruelle devant le gymnase de Oncy-sur-Ecole)- PARCOURS : 150 km
DEPART 11 h 15  (Chemin de la Ruelle devant le gymnase de Oncy-sur-Ecole
) 
- PARCOURS : 95 km
- Arrivée
 Oncy sur Ecole
 jusqu'à 16 h 00, heure de clôture des arrivées. 
Attention prix d'engagements majorés sur place 40 Euros

Voir le règlement complet de l'épreuve sur le site
www.aaoc-wissous.fr

- Avertissement: L'organisateur de cet événement demande le téléchargement d'une copie de la licence ou du certificat médical (avec la mention de non contre-indication à la pratique du cyclisme de compétition) pour chaque inscription 
(ceci vous permettra de gagner du temps pour le retrait de votre dossier  le jour de l'épreuve)
. A défaut, la présentation du docume
nt justificatif  pourra se faire sur place.
Registration form
Please type here your personnal information, and choose the registration options corresponding to your case. Once all the form fields are filled, click the button Validate your registration, which will activate the secured online paiement. You can validate many individual registrations at once.
The registrations online are now closed for this event.