La Pierre Chany 2021
Online registration




Secured payment by credit card with our partner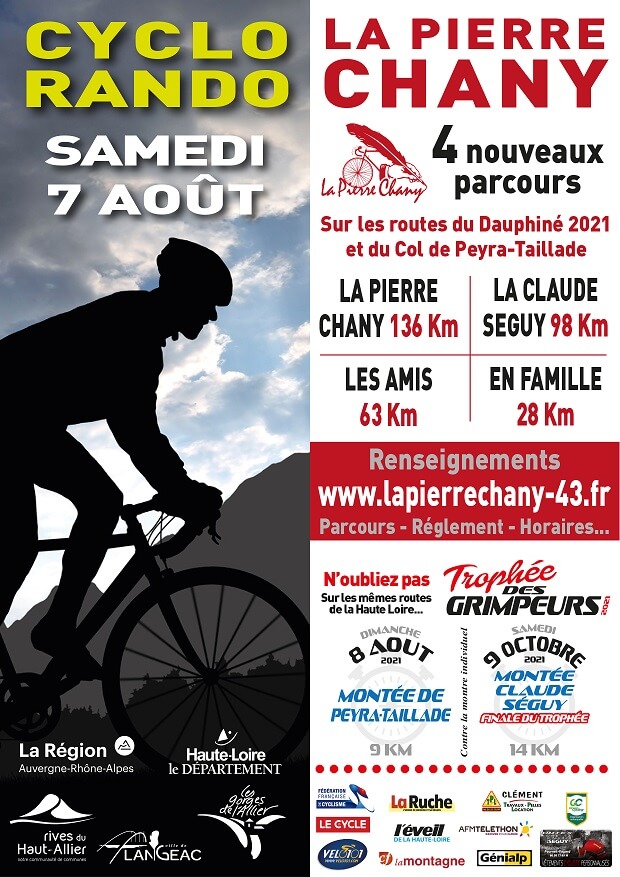 Event organised by Team Cycliste Langeadois,
on August 7, 2021

Online registration active until August 6, 2021 at 12:00:00
LA PIERRE CHANY  2021
Pour 2021 l'épreuve se déroulera en randonnée (sans classement)
LANGEAC (Haute Loire 43)


    - La Pierre Chany 136 kms dénivelé 2256 m

    - La Claude Seguy 98 kms dénivelé 1650 m
    - Les Amis : 63 kms dénivelé 1006 m
    - En famille : 28 kms dénivelé 356 m
 - Départs et arrivées : Centre Culturel de Langeac rue Lèo-Lagrange LANGEAC

- Départs échelonnés de 7h00 à 9h00

- Plateau repas a emporter
- Règlement complet sur le site
- Jeunes nés en 2009 et 2010 : accompagnés obligatoirement par un adulte

http:www.lapierrechany-43.fr
- Avertissement: L'organisateur de cet événement demande le téléchargement d'une copie de la licence pour chaque inscription de licencié FFC ou FFCT (sauf pour la rando). A défaut, la présentation du document justificatif  pourra se faire sur place.
- ATTENTION: Le fait d'être engagé indique que le concurrent  a pris connaissance du règlement de l'épreuve  et qu'il en accepte les clauses. Règlement consultable sur le site de l'épreuve.


Registration form
Please type here your personnal information, and choose the registration options corresponding to your case. Once all the form fields are filled, click the button Validate your registration, which will activate the secured online paiement. You can validate many individual registrations at once.
The registrations online are now closed for this event.