La Jean François Bernard 2021
Online registration




Secured payment by credit card with our partner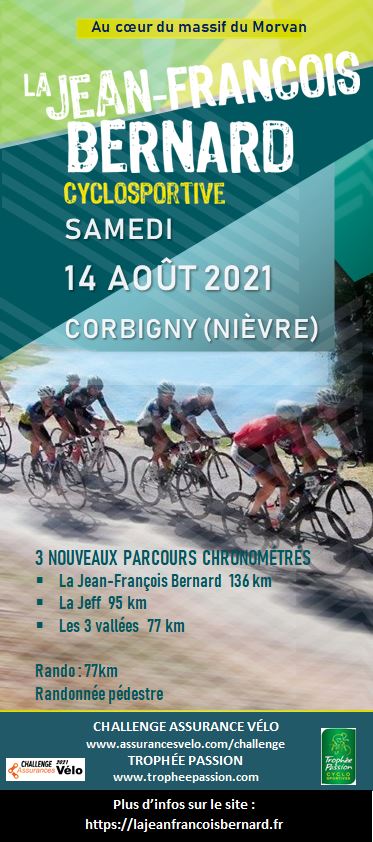 Event organised by Club Cycliste Corbigeois,
on August 14, 2021

Online registration active until August 13, 2021 at 19:00:00
La Jean François Bernard (Nièvre 58)
Samedi 14 Août 2021
Cette épreuve compte pour le Trophée Passion 2021

Attention Inscription le jour : pas de plateau repas
                                                  : Engagement 32 Euros
La
Nièvre, Terre de cyclisme, qui a permis à plusieurs grands champions parmi
lesquels Jean-François Bernard, de briller sur des épreuves majeures, offre un
espace naturel idéal pour les amoureux du vélo. La Jean-François Bernard,
cyclosportive ouverte à tous, cycliste aguerri ou non, profite de cet
environnement idéal pour dessiner ses parcours au milieu des valons, lacs et
forêts morvandelles. Essentiellement tracés au cœur du Morvan, ces circuits
permettent la découverte de son patrimoine naturel préservé et culturel sur un
large territoire traversant 22 communes.
Il
vous est proposé un beau défi avec au choix, trois nouveaux parcours
chronométrés de 136, 95 ou 77 km. Les nouveaux parcours qui empruntent de
nouvelles routes du Morvan vous ferons découvrir des paysages inédits avec le
passage par des cols nouvellement répertoriés.



Le
Morvan, relief de moyenne montagne sera notre terrain de jeu.



La
Jean-François Bernard sera l'occasion idéale pour tester votre état de forme et
votre progression.



On
vous accueillera avec plaisir avec l'espoir que l'évolution de la pandémie nous
permette de vivre une 16ème édition sans mesures de protections
sanitaires.



Le
rendez-vous est donné le 14 août 2021.
3 circuits cyclosportifs:
 - La Jean François Bernard 136 kms dénivelé  2267 m
 - La Jeff 95 kms dénivelé 1547 m
 - Les 3 vallées 77 kms dénivelé 1100m

1 rando :

 - Les 3 vallées 77 kms (ouvert aux VAE) dénivelé 1100m
Remise des dossards:
Place du champ de foire à  Corbigny (58)
- vendredi 13 août de 15h00 à 19h30
- samedi 14 août  de 7h00 à 8h30
Départ a partir de 9h00:  Rue d'Augenay à  Corbigny (58)
Arrivée: Avenue d'Augenay à  Corbigny (58)  à partir de 11h00
Repas :A partir de 12h30 Place du champ de foire à  Corbigny (58)
Remise des récompenses :A partir de 15h30 (Place du champ de foire à  Corbigny (58)
Services : douches, parking,
Règlement renseignements  sur le site: 
https://lajeanfrancoisbernard.fr
- Avertissement: L'organisateur de cet événement demande le téléchargement d'une copie de la licence ou du certificat médical (avec la mention de non contre-indication à la pratique du cyclisme de compétition) pour chaque inscription (ceci vous permettra de gagner du temps pour le retrait de votre dossier  le jour de l'épreuve).A défaut, la présentation du document justificatif  pourra se faire sur place.
- ATTENTION: Le fait d'être engagé indique que le concurrent  a pris connaissance du règlement de l'épreuve  et qu'il en accepte les clauses. Règlement consultable sur le site de l'épreuve.
Le participant n'ayant pas restitué la puce à la fin de l'épreuve se verra établir une facture de 20 Euros

Registration form
Please type here your personnal information, and choose the registration options corresponding to your case. Once all the form fields are filled, click the button Validate your registration, which will activate the secured online paiement. You can validate many individual registrations at once.
The registrations online are now closed for this event.