La Bernard Thevenet 2020
Online registration




Secured payment by credit card with our partner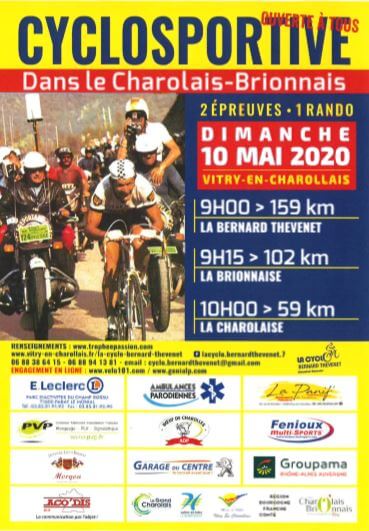 Event organised by La cyclo Bernard Thevenet Charolais Brionnais,
on May 10, 2020

Online registration active until May 9, 2020 at 12:00:00
2 épreuves cyclo-sportives - 1 rando
La Bernard Thevenet  départ 9h00 - 159 kms
La Brionnaise départ 9h15 - 102 kms
La Charolaise départ 10h00 - 59 kms
- Remise des plaques de cadres  Samedi
9 Mai de 14h à 19 h et Dimanche 10 Mai de 7 h 00 à 8 h 45 à la salle des sports Rue du chêne couronné à Vitry en Charollais.
- Inscriptions sur place dimanche matin : 37 Euros
Voir le réglement complet de l'épreuve sur le site

http://www.tropheepassion.com
et sur

https://www.vitry-en-charollais.fr/la-cyclo-bernard-thevenet

- Avertissement:
L'organisateur de cet événement demande le téléchargement d'une copie
de la licence ou du certificat médical (avec la mention de non
contre-indication à la pratique du cyclisme de compétition) pour chaque
inscription 

(ceci vous permettra de gagner du temps pour le retrait de votre dossier  le jour de l'épreuve)

.A défaut, la présentation du docume
nt justificatif  pourra se faire sur place.
Registration form
Please type here your personnal information, and choose the registration options corresponding to your case. Once all the form fields are filled, click the button Validate your registration, which will activate the secured online paiement. You can validate many individual registrations at once.
Evénement annulé !
En raison des mesures gouvernementales prises pour limiter la propagation du Covid 19, l'épreuve est annulée pour 2020.
Nous espérons vous retrouver en 2021

The registrations online are now closed for this event.