LA FOULEE DE NOEL 2016
Online registration




Secured payment with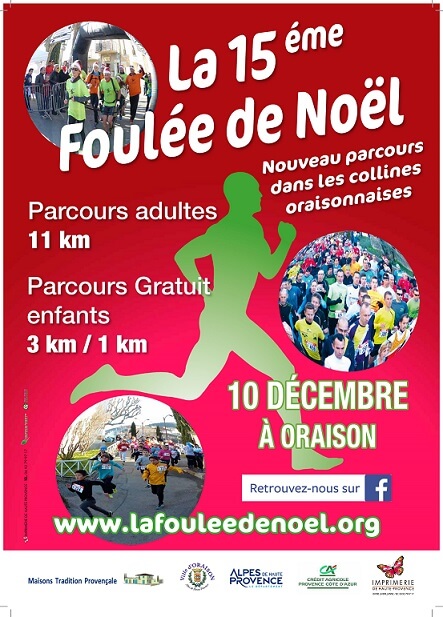 Event organised by Association la foulée,
on December 10, 2016

Online registration active until December 7, 2016 at midnight
Les inscriptions à la foulée de Noël 2016 sont ouvertes !
Vous pouvez télécharger votre certificat médical ou votre photocopie de licence pour que votre dossier soit complet.(OBLIGATOIRE)
N'oubliez pas que l'inscription en ligne vaut acceptation du règlement qui peut être consulté sur le
site de la foulée
.
L'inscription pour les courses de 1 à 3 km qui sont gratuites, l'inscription peut également se faire en ligne, sans frais. Elles sont réservées uniquement aux enfants.
Pour les enfants scolarisés à Oraison, l'inscription doit se faire obligatoirement par le professeur d'EPS pour le collège et par le service jeunesse pour l'école primaire.
Si vous souhaitez participer au trophée entreprise ou club le plus représenté pensez à remplir le champ lors de votre inscription.
A partir du 7 décembre, les inscriptions se feront sur place le jour même au prix de 15 euros.
Registration form
Please type here your personnal information, and choose the registration options corresponding to your case. Once all the form fields are filled, click the button Validate your registration, which will activate the secured online paiement. You can validate many individual registrations at once.
The registrations online are now closed for this event.