GRAND TRAIL SERRE-PONCON 2020 par équipe de 2
Online registration




Secured payment by credit card with our partner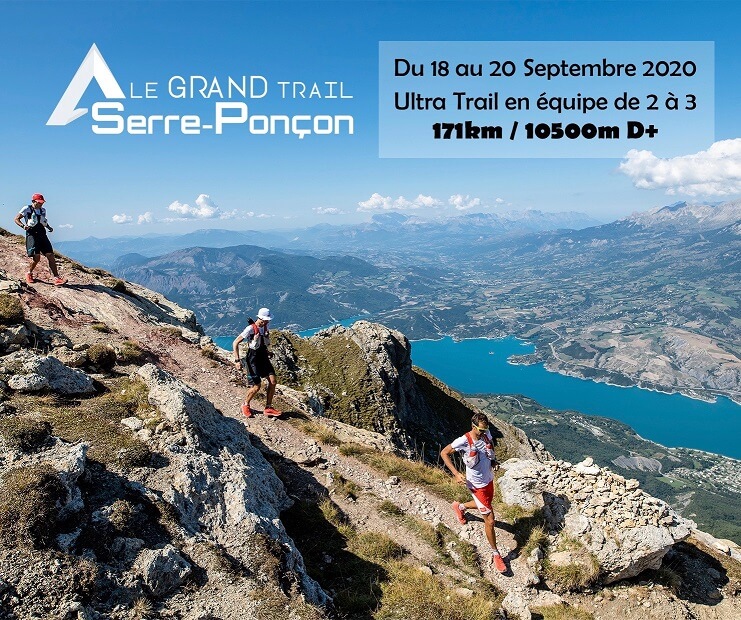 Event organised by -Association Grand Trail de Serre-poncon,
on September 18, 2020

Online registration active until September 5, 2020 at midnight
1er GRAND TRAIL DE SERRE-PONCON :
Equipe de 3 coureurs 
171 km pour 10 500 mètres de dénivelé
Départ : Vendredi 18 septembre 2020 à 10h00 plan d'eau d'Embrun
Calendrier des tarifs d'inscription :
Jusqu'au 31/12/2019 : 80 euros par coureur
Du 01/01/2020 au 31/03/2020 : 90 euros par coureur
Du 01/04/2020 au 30/06/2020 : 100 euros par coureur
Du 01/07/2020 au 05/09/2020 : 120 euros par coureur
Registration form
Please type here your personnal information, and choose the registration options corresponding to your case. Once all the form fields are filled, click the button Validate your registration, which will activate the secured online paiement. You can validate many individual registrations at once.
The registrations online are now closed for this event.