Etape Sanfloraine 2019
Online registration




Secured payment by credit card with our partner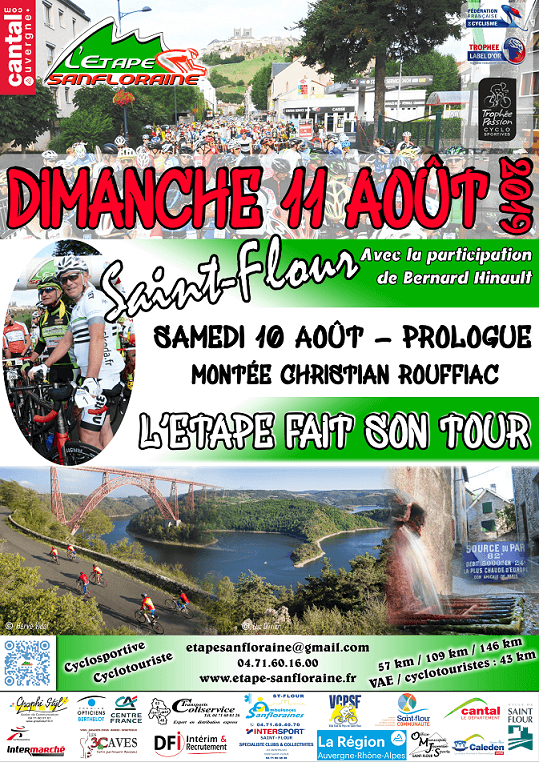 Event organised by L'ETAPE SANFLORAINE,
on August 11, 2019

Online registration active until August 9, 2019 at 23:55:00
L'Étape Sanfloraine, ou l'ambition de faire découvrir les formidables panoramas de la région, dans une ambiance particulièrement conviviale, tout en assurant une sécurité maximale aux concurrents.
"
2019 : Sur les routes du Tour de France !
L'ÉTAPE SANFLORAINE 
DIMANCHE 11 AOUT
Cette épreuve compte pour le Trophée Passion 2019
4 Circuits
La Sanfloraine 146 kms
Les Gorges de la Truyère 109 kms
Le Cirque de Mallet  57 kms
La Planèze 43 kms

Inscriptions: 
samedi 10 de 15h à 19h, dimanche 11 de 7h à 8h30 sur le site d'arrivée (ville haute)
Départ tous circuits:
 9h Avenue de la République (Ville basse )
Repas du terroir : compris dans le prix de l'inscription sur le site d'arrivée
Remise des récompenses a partir de 16h en présence de Bernard Hinault
Tombola par tirage au sort sur le site d'arrivée : un vélo carbone à gagner !

Repas accompagnateur : 11 Euros
Voir le règlement complet de l'épreuve sur le site

NOUVEAUTÉS 2019

-> Un parcours spécial Vélo à Assistance Électrique (sans chronométrage) : La Planèze 43 km

-> Pack Spécial 2 jours / 1 nuit en Pays de Saint-Flour : une offre adaptée et adaptable, pour un weekend entre cyclo, activités nautiques et balade culturelle.


- Avertissement : L'organisateur de cet événement demande le téléchargement d'une copie de la licence ou du certificat médical (avec la mention de non contre-indication à la pratique du cyclisme de compétition) pour chaque inscription (ceci vous permettra de gagner du temps pour le retrait de votre dossier  le jour de l'épreuve). A défaut, la présentation du document justificatif pourra se faire sur place.
- ATTENTION: Le fait d'être engagé indique que le concurrent  a pris connaissance du règlement de l'épreuve  et qu'il en accepte les clauses. Règlement consultable sur le site de l'épreuve.
Le participant n'ayant pas restitué la puce à la fin de l'épreuve se verra établir une facture de 20 Euros.
Registration form
Please type here your personnal information, and choose the registration options corresponding to your case. Once all the form fields are filled, click the button Validate your registration, which will activate the secured online paiement. You can validate many individual registrations at once.
The registrations online are now closed for this event.