EGC COLOR RUN 2019
Online registration




Secured payment by credit card with our partner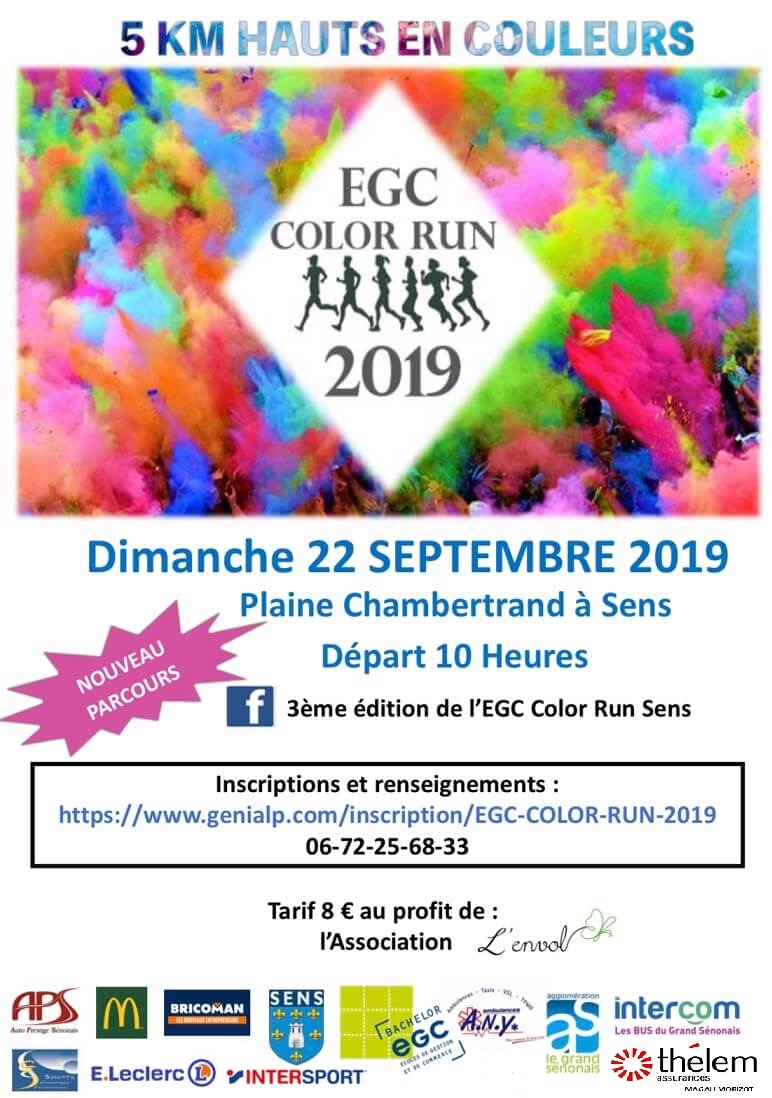 Event organised by EGC Sens,
on September 22, 2019

Online registration active until August 15, 2019 at 23:55:00
Dimanche 22 septembre 2019

EGC Color Run

5 km hauts en couleurs
Sur un tout nouveau parcours

Départ : 10h00 Plaine de Champbertrand

Chemin des pêcheurs  
89100 SENS

Le 22 Septembre 2019 se tiendra la troisième édition du Color run de Sens, organisée par les élèves de l'Ecole de Gestion et Commerce de Sens. Le concept de cet événement est de parcourir 5 km, sans chronométrage. À chaque kilomètre des jets de poudre aspergent les coureurs, l'objectif étant d'être le plus coloré possible, et surtout de passer un moment entre amis en toute convivialité. Il ne s'agit pas d'être le plus rapide ou de franchir la ligne d'arrivée en premier. Les mots d'ordre sont couleurs, amusement et plaisir ! Pour une meilleure ambiance, nous vous invitons à vous munir de vos plus beaux déguisements (les plus originaux seront récompensés !) Entourés de nombreux autres coureurs, vous allez vivre une aventure exceptionnelle que vous n'êtes pas prêt d'oublier. Cette troisième édition pourra réunir 600 personnes. Bonne humeur, couleur et convivialité seront au programme ! Prix de l'engagement : 8 Euros 

Contact et renseignements :


Voir le règlement complet de l'épreuve sur le site
- Avertissement: 
Il est de la responsabilité de chacun d'estimer au mieux ses capacités physiques. Les organisateurs ne pourront en aucun cas être tenu pour responsables en cas d'incident ou d'accident. Les participants doivent être en possession d'une " assurance responsabilité civile " et d'une " assurance accidents corporels " les prémunissant contre les risques inhérents à leur participation à l'EGC ColorRun.
ATTENTION: Le fait d'être engagé indique que le participant a pris connaissance du règlement de l'épreuve  et qu'il en accepte les clauses. Règlement consultable sur le site de l'épreuve.
Registration form
Please type here your personnal information, and choose the registration options corresponding to your case. Once all the form fields are filled, click the button Validate your registration, which will activate the secured online paiement. You can validate many individual registrations at once.
The registrations online are now closed for this event.