Chrono du Sichon 2021
Online registration




Secured payment by credit card with our partner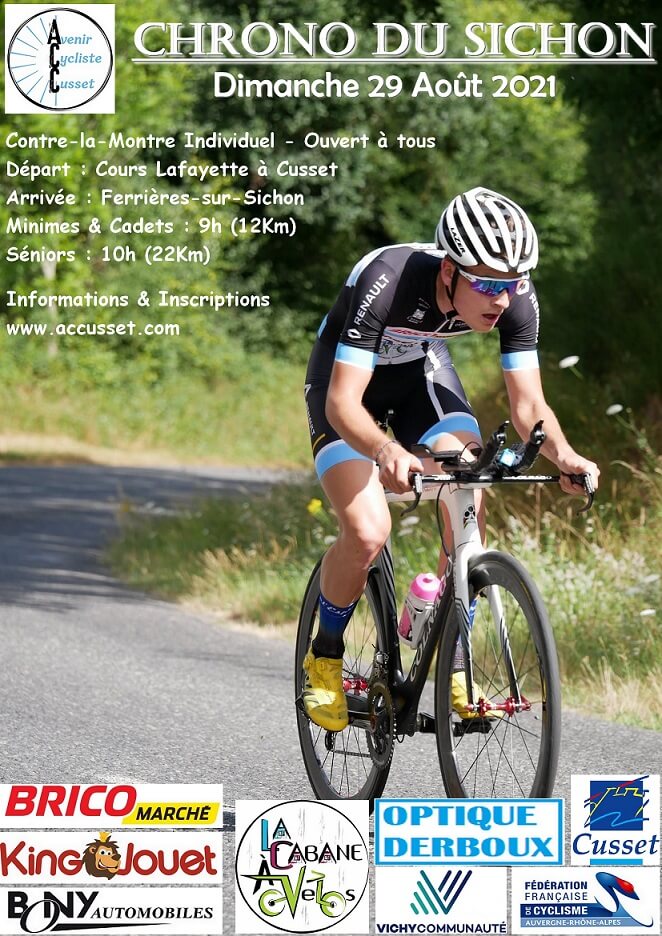 Event organised by Avenir Cycliste Cusset,
on August 29, 2021

Online registration active until August 28, 2021 at 20:00:00
CHRONO DU SICHON
CUSSET/ARRONNES/FERRIERES SUR SICHON
Dimanche 29 Août 2021

Date limite d'inscription: samedi 28/08/2021 à 20h00
Engagement licenciés FFC et FFTRI féminines

:10 Euros

Autres licenciés et non licenciés : 14 Euros

-
Avertissement: L'organisateur de cet événement demande le
téléchargement d'une copie de la licence ou du certificat médical (avec
la mention de non contre-indication à la pratique du cyclisme de
compétition) pour chaque inscription (ceci
vous permettra de gagner du temps pour le retrait de votre dossier  le
jour de l'épreuve).A défaut, la présentation du document justificatif
 pourra se faire sur place.

- ATTENTION
 Le fait d'être engagé indique que le concurrent  a pris connaissance du règlement de l'épreuve  et qu'il en accepte les clauses.

Règlement consultable sur le site https://www.accusset.com/

Le participant n'ayant pas restitué la puce à la fin de l'épreuve se verra établir une facture de 60 Euros
Registration form
Please type here your personnal information, and choose the registration options corresponding to your case. Once all the form fields are filled, click the button Validate your registration, which will activate the secured online paiement. You can validate many individual registrations at once.
Evénement annulé !
En raison du faible nombre d'engagés à ce jour, le Chrono du Sichon est annulé.
The registrations online are now closed for this event.