Championnat National Cycliste des Elus
Online registration




Secured payment by credit card with our partner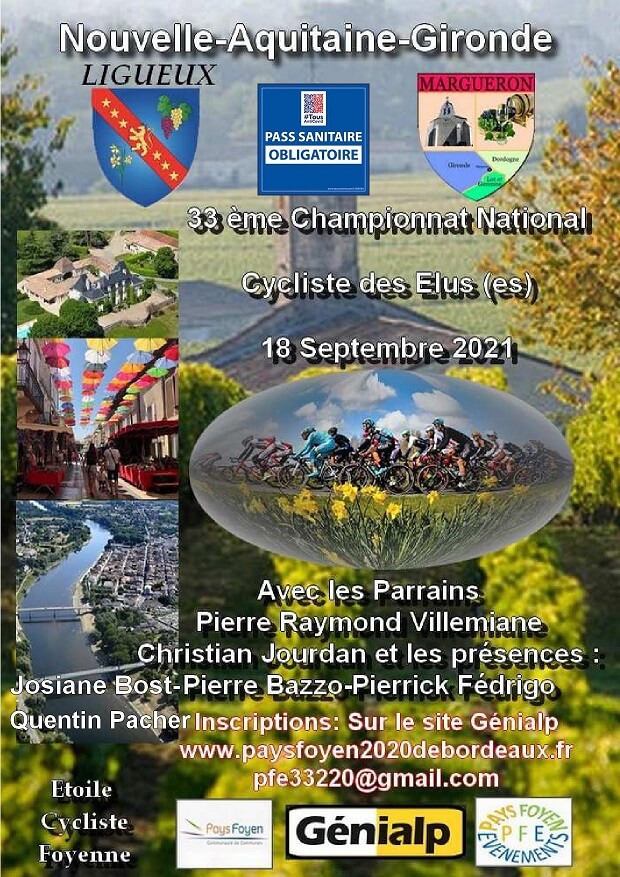 Event organised by Pays Foyen Evenements,
on September 18, 2021

Online registration active until September 11, 2021 at 12:00:00
Championnat National Cycliste des Elus 2021
LIGUEUX  (33)
Une organisation du Pays Foyen Evenements - 

Etoile Cycliste Foyenne

Date limite d'envoi des dossiers d'inscription samedi 11 septembre 2021
NOTA:  Au
regard des préconisations faites par les autorités sanitaires et

à la publication du décret n° 2021-955 du 19 Juillet 2021 le
passe sanitaire obligatoire sera validé par :


- un
certificat de vaccination complet valide 7 jours après la dernière injection,

- ou test PCR ou antigénique négatif datant de moins de 48 heures,

- ou test PCR ou antigénique positif datant de moins de 6 mois (et

de plus de 11 jours) attestant que la personne a déjà développé la maladie et qu'elle est donc naturellement immunisée.

Consulter le réglement, les hébergements, tous les détails d'organisation en cliquant sur le lien ci-dessous
http://www.paysfoyen2020debordeaux.fr

 Inscriptions cliquer sur le lien ci-dessous

https://www.genialp.com/inscription/Championnat-National-Cycliste-des-Elus

Pour consulter la liste des inscrits cliquer sur le lien ci-dessous:
Programme tous les détails sur le site:
http://www.paysfoyen2020debordeaux.fr/crbst_7.html

3 Documents à joindre (scannés) lors de l'inscription sur Genialp:
Photocopie d'une pièce d'identité
Photocopie
d'un justificatif de la fonction élective portant la date de l'élection
pour les élus dont le mandat est en cours, daté de l'année en cours ou Photocopie du justificatif permanent à télécharger sur le site du comité national pour les élus d'un ancien mandat complet http://cncelus.free.fr/spip.php?article18
Copie du Pass Sanitaire
Photocopie
d'un certificat médical d'aptitude au cyclisme de compétition de moins
d'un an à la date de l'épreuve pour les non-licenciés ou de la
photocopie de la licence
Un chèque du montant de la prestation choisie à l'ordre de:                                          Pays Foyen Evenement

Nota: Pour ceux n'ayant pas possibilité de scanner ces documents, ceux ci seront expédiés par voie postale à l'adresse: 
Mairie de Ligueux 
 33220 LIGUEUX 
Avertissement : L'organisateur
de cet événement demande obligatoirement le téléchargement d'une copie
de la licence ou du certificat médical (avec la mention de non
contre-indication à la pratique du cyclisme de compétition) pour chaque
inscription.

L'inscription ne sera effective que lorsque tous les documents demandés auront été transmis et validés.
Registration form
Please type here your personnal information, and choose the registration options corresponding to your case. Once all the form fields are filled, click the button Validate your registration, which will activate the secured online paiement. You can validate many individual registrations at once.
The registrations online are now closed for this event.