7ème TRAIL de la PAIX (Trescléoux 05) - 11 et 12 mai 2019
Online registration




Secured payment by credit card with our partner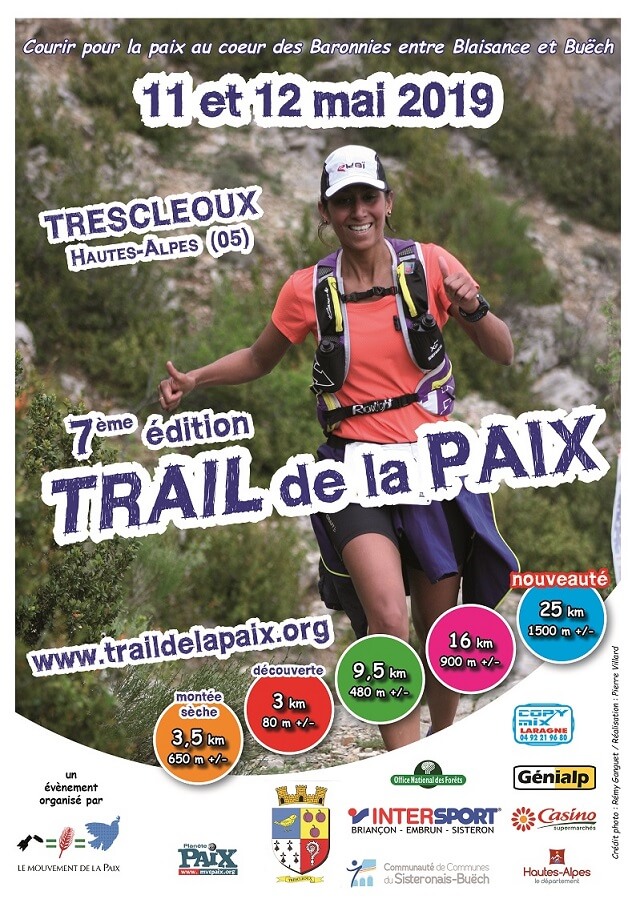 Event organised by Le Mouvement de la Paix,
on May 11, 2019

Online registration active until May 10, 2019 at 23:55:00
En route pour le 7ème Trail de la Paix, une course naturellement solidaire, dans les Baronnies provençales.


Le Trail de la Paix est organisé par le Mouvement de la Paix, principale association pacifiste en France.
--> 
Objectif : réaliser un événement d'éducation populaire à caractère sportif et à forte dimension sociale et humaine.

Le Trail de la Paix est organisé autour du village de Trescléoux, entre les vallées de la Blaisance et du Buëch, dans les  Baronnies. 
Le parcours permettra une découverte inhabituelle des territoires avec une vue exceptionnelle tout au long de la crête d'Aumage et depuis le  rocher de Beaumont dont la position permet d'admirer à la fois les Écrins au nord, le Mont Ventoux et la Montagne de Lure au Sud.
La végétation du printemps enchante les coureurs au fil du parcours.


La nouveauté de 2019 :
Le parcours Lucie Aubrac de 25km vous emmènera sur les versants sud et nord de la commune de Trescléoux et sur les crêtes d'Aumage pour découvrir les Vallées de la Blaisance et du Buëch

Un bon d'achat de 10 est inclus dans le pack cadeau offert à tous les coureurs, valable dans les magasins INTERSPORT de Sisteron, Embrun et Briançon.
IMPORTANT
: Vous devez vous présentez le jour de la course avec votre licence (ou
photocopie) FFA ou FFTri, ou un certificat médical de moins d'un an
(article 2 du règlement).
Aucune délivrance de certificat médical ne sera possible le jour de la course
Cinq parcours : 

Florence Arthaud : Parcours découverte de 3 km - 80 m D+/-


Jean Jaurès : 9,5 km - 480m D+/-

Martin Luther King : 16 km - 900 m D+/-

Lucie Aubrac : 24,5km - 1450m D+/-

Montée de la Colombe : 3,5 km - 650m D+

Une
animation destinée aux enfants se déroulera sous la forme d'un
jeu-rallye de la paix dans le village, le long duquel seront proposés
des animations en lien avec la culture de la paix. 
Des
stands d'associations humanitaires et des droits de l'homme, ainsi que
des producteurs locaux constitueront un village autour du podium
d'animation. 

Un repas solidaire et convivial rassemblera les coureurs, les bénévoles et les partenaires après l'épreuve. 

Chaque participant se verra remettre un pack cadeau valorisant
durablement Le Trail de la paix et ses soutiens. Un sac à chaussures souvenir
de la course est inclus dans le pack-cadeau pour les 200 premiers
inscrits.


L'inscription comprend les ravitaillements, les secours, le repas solidaire et le pack-cadeau.
Registration form
Please type here your personnal information, and choose the registration options corresponding to your case. Once all the form fields are filled, click the button Validate your registration, which will activate the secured online paiement. You can validate many individual registrations at once.
The registrations online are now closed for this event.