Trail Rose - Gapen'cimes
Online registration




Secured payment by credit card with our partner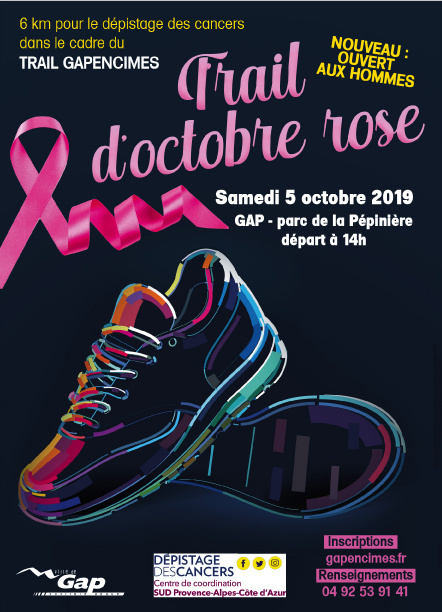 Event organised by Antenne 04-05 du CRCDC Sud Paca et Mairie de Gap,
on October 5, 2019

Online registration active until October 2, 2019 at midnight
A l'occasion d'octobre rose 2019, nous vous proposons un "TRAIL ROSE" de 6 km. 
Sur la colline de St Mens, en marchant ou en courant ou les deux, ce trail découverte est sans classement et solidaire en faveur du dépistage du cancer du sein. Mettez du rose dans vos tenues ! Échauffement zumba avant le départ!
NOUVEAU: le trail rose est ouvert aux femmes et aux hommes ! 
Le départ se fera à 14h dans le parc de la pépinière puis vous partirez sur les chemins et les sous bois pour atteindre le sommet de la colline.
Les inscriptions en lignes sont ouvertes jusqu'au
2 octobre minuit
et sur place le jour J (10
€)
.
Pensez à venir récupérer vos dossards avant 13h30 et à partir de 10h00.
Aucun justificatif à fournir pour cette course.
Registration form
Please type here your personnal information, and choose the registration options corresponding to your case. Once all the form fields are filled, click the button Validate your registration, which will activate the secured online paiement. You can validate many individual registrations at once.
The registrations online are now closed for this event.