Corrida Tarascon 2014
Online registration




Secured payment with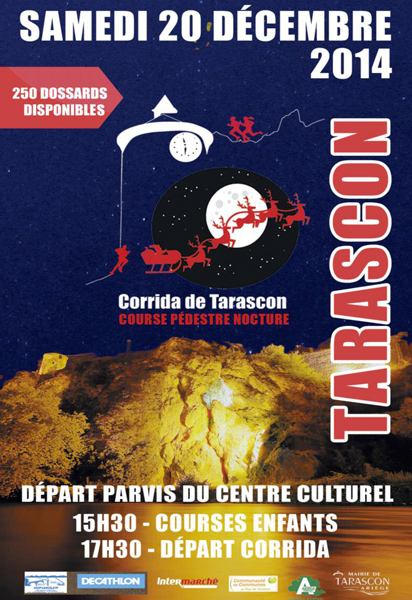 Event organised by VO2MAX Tarascon ,
on December 20, 2014

Online registration active until December 19, 2014 at midnight
Dates et horaires de départ:

La deuxième édition de la Corrida de Tarascon sur Ariège se déroulera le
samedi 20 décembre 2014 dans les différents quartiers historiques et
économiques de la ville
Le départ sera donné sur l'esplanade François Mitterrand à 17 h 30 pour la corrida.



Programme du samedi 20 décembre 2014 :



15h00 : inscription à l'animation course enfants
15h30 : départ course éveils Masc et Fém (500 m)
15h45 : départ course poussins Masc et Fém (1000 m)
16h00 : départ course benjamins Masc et Fém (1500 m)
16h15 : départ de la course minimes Masc et Fém (2000 m)

A partir de 16h00 retrait des dossards. Fin à 17h15.

17h30 : Départ de la Corrida

Registration form
Please type here your personnal information, and choose the registration options corresponding to your case. Once all the form fields are filled, click the button Validate your registration, which will activate the secured online paiement. You can validate many individual registrations at once.
The registrations online are now closed for this event.